Best-in-Class Technical Support

With an average response time of 30 minutes and a guaranteed response within the hour, you can be sure to get help when you need it. We offer phone, email, and chat support options. Skill-based call routing and support performance tracking ensure a quick resolution.
Groundbreaking Customer Web Portal

CUSI's Customer Web Portal is a real-time, web-based application directly integrated with the utility billing database. CWP allows users to pay their bills, view usage and account history, make service requests, sign up for recurring payments, and much more.
Customer Focused Communication Tools

CUSI offers a host of different communication tools. Out of the box, utilities can email and ebill their customers directly from the billing application. You can also easily enable text messaging and IVR calls to take your customer communication to the next level.
Robust Reporting

CUSI offers a robust reporting platform. With 70 standard reports and a host of different limit options, including user-defined codes you can be sure to find the data you are looking for. Automated reporting and multitasking makes you job easier than ever.
Cyber Security Focused

CUSI believes in a security by design development approach. CUSI utilizes end to end AES 256 encryption to keep your data safe. CUSI is audited annually for FIPS 140-2 compliance. CUSI offers Cyber Services to ensure your data is secure and available.
Deployment Options

CUSI lets you tailor your billing experience to your needs.The application can be deployed on-premise to give you full control or in a worry-free hosted environment. Hosting allows you to work from anywhere and lessens the burden of data security and integrity.
Powerful Mobile Work Orders & Asset Management

The mobile work order platform can be accessed by any internet enabled device and integrates directly into the billing application. Customer Service Reps & Administrators can assign work orders and communicate with Field Technicians from the office.
It is easy to see why so many utilities have decided to join the CUSI family.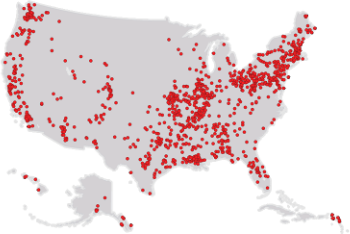 Free Online Product Demonstration Video
"This is the best billing software and by far the best technical support I've ever used. It really stands out that all of the employees stand behind the software 100%."
-South Berwick Sewer District
Key CUSI
Software Features
ACH Payment Processing
Account Management
Accounting Integration
Automatic Backups
Barcode Printing
Bill Templates
Billing & Invoicing
Billing History
Collections Management
Credit Card Processing
Customer Database
Customer Management
Customizable Fields
Customizable Functionality
Customizable Reporting
Data Import/Export
Email Billing
Handheld Meter Reading
Metered Billing
Mobile Access
Mobile Service Orders
Multi-Currency
Multi-Language
Multiple Rate Schedules
Non-Metered Billing
Online Help Access
Online Payment Processing
Penalty/Cut-Off Processing
Remote Backup
Reporting
Water Billing
Work Order Management